About Aurora "BeBop" Krause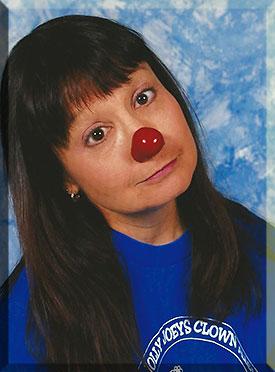 "Bebop" began her adventure into the world of clowning in 1995. Her clown character "Bebop" is a musical and energetic clown who brings fun and enjoyment to all events. Her presentations include music, dance, silly magic, comedy antics, crazy skits and more.  She performs at children's parties, family gatherings, festivals and conducts humor presentations for special interest groups. She is also a 'Caring Clown' who performs locally at hospitals, nursing homes and shelters.
Bebop has been on staff as an instructor and performer at many educational clown programs and conventions since 2004.
Those conventions include the World Clown Assn. (WCA) and Clowns of America International (COAI) among others. The Educational Clown Programs include Clown Camp La Crosse, All Things Clown, Comediest and various others.
She also offers two clown workshops to Clown Alleys throughout the states, one workshop is: "Spotlight on Clowning" which offers topics on clowning in general.  The second w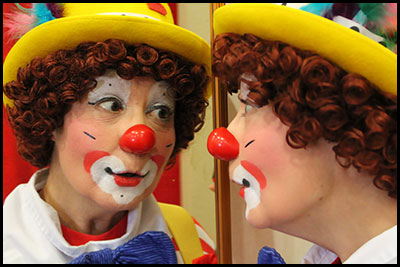 orkshop is:   "Open Heart Clowning: A Caring Clown Workshop".  Bebop is a passionate clowning instructor; her goals are to inspire clown students to represent the "Art of Clowning" with respect, dedication and creditability.
Aurora's pervious career was in the corporate world of banking. She was a banker for 34 years and left the structured corporate environment in 2009.  She got her start in banking as a teller and retired as a Senior Vice-President.  In 1995 she volunteered in a community-reinvestment mentorship program for the bank.  This program included working with inner-city schools doing their school festivals. As volunteers they'd perform at these school festivals and that's when she discovered her passion for costumes, music and ultimately for clowning.